Moo Hoooooooo! Wow! We are off and running Since our launch party last November we have been having a blast and having a ton of fun introducing the jam to the world. It has been so welcomed and loved. I am overwhelmed with gratitude. So many to thank I can't name everyone so I will just say big "thank you" to all you have supported Coo Moo Jams.
This is my first blog for the new year. I thought I would tell you a little about our wonderful girl Gracie and a little bit about the Highland Coo. I love this cow. I love Gracie. I have traveled to Scotland often and that is where I fell in love with this beautiful animal. These big handsome creatures are really special. They are a Scottish breed of cattle.They have long horns and long, wavy, woolly coats that are colored red, ginger, black, dun, yellow, white, grey, "silver" (white but with a black nose and ears), or tan, and they also may be brindled. Highland Coos are raised primarily for their meat and they are a hardy breed, having been bred to withstand the conditions in the Scottish Highlands. Bulls can weigh up to 1,800 pounds and cows can weigh up to 1,100 pounds. Their milk generally has a very high butterfat content, and their meat, regarded as of the highest quality, is gaining mainstream acceptance as it is lower in cholesterol than other varieties of beef….. we won't talk about that.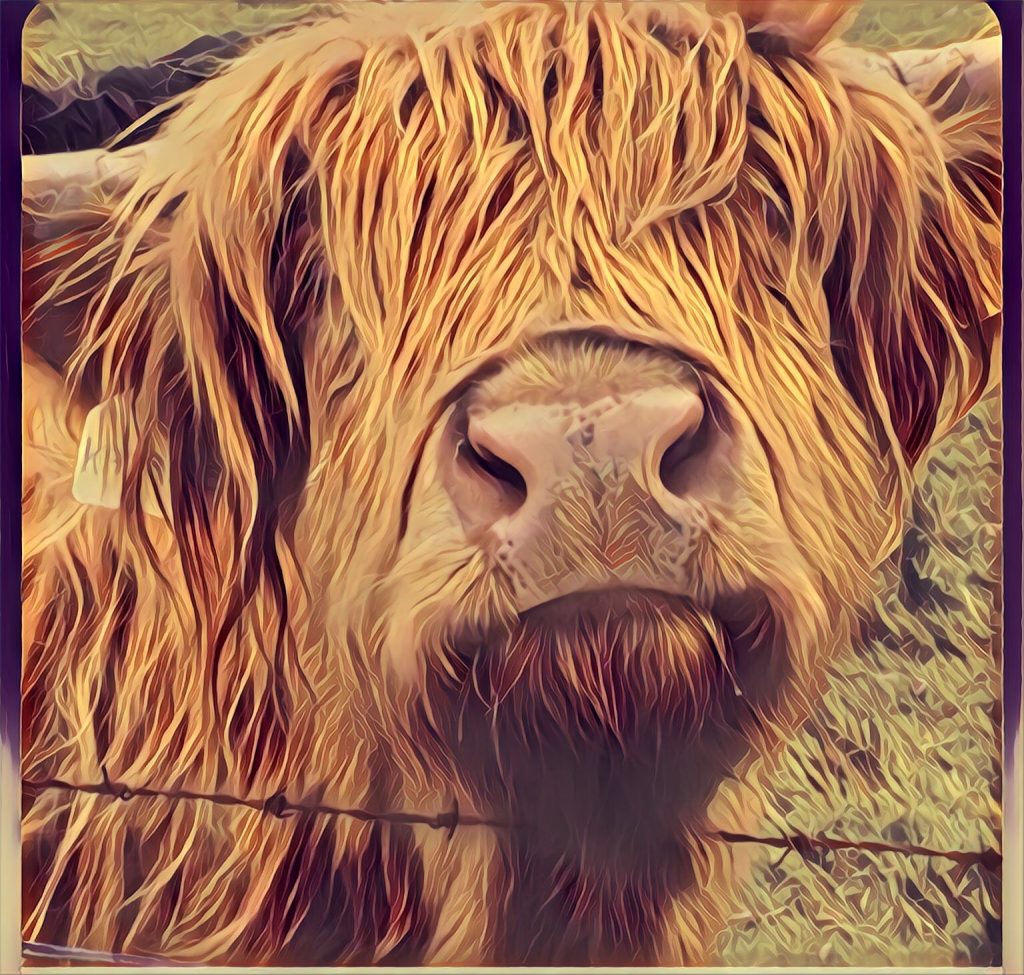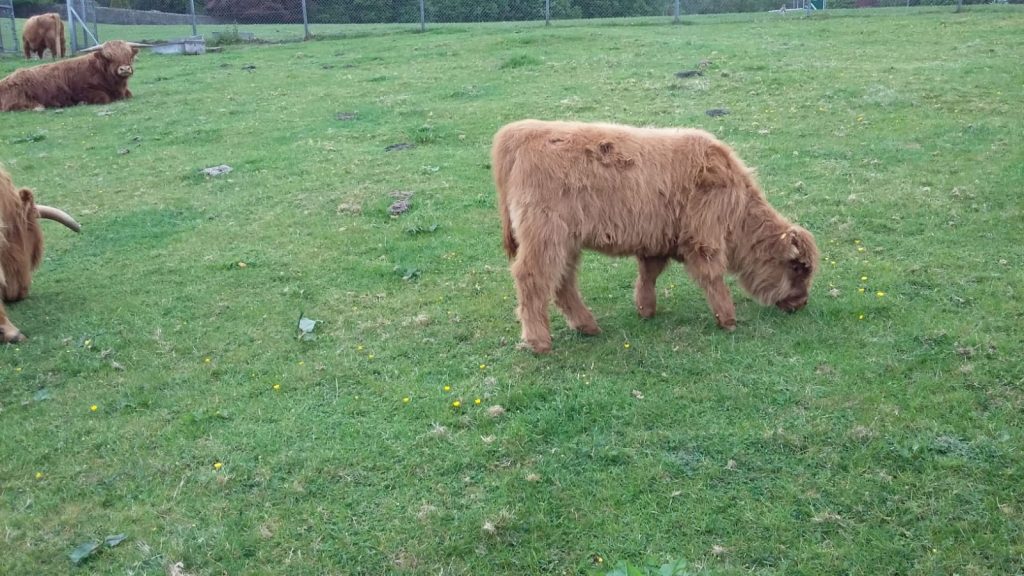 I met my first Coo on my first trip to Scotland. My friends and I were on a tour and we stopped on the side of the road in the highland hills and met this cutie and her baby. They are pretty friendly cows and they came to greet us, hoping we may have had a turnip or two for them. I fell in love at that very moment. They have huge eyes covered by long hair and each seems to have their own personality. At home my herd is growing all the time. My good friend, Es Ardee is an amazing artist and has painted this handsome boy. He hangs in my family room and watches over my home. I have named him Bazel. I have Teddy, a baby Coo from Lauren Terry of laurenscows.com (the creator of Gracie) and several other beautiful creatures but of course Gracie is our current star.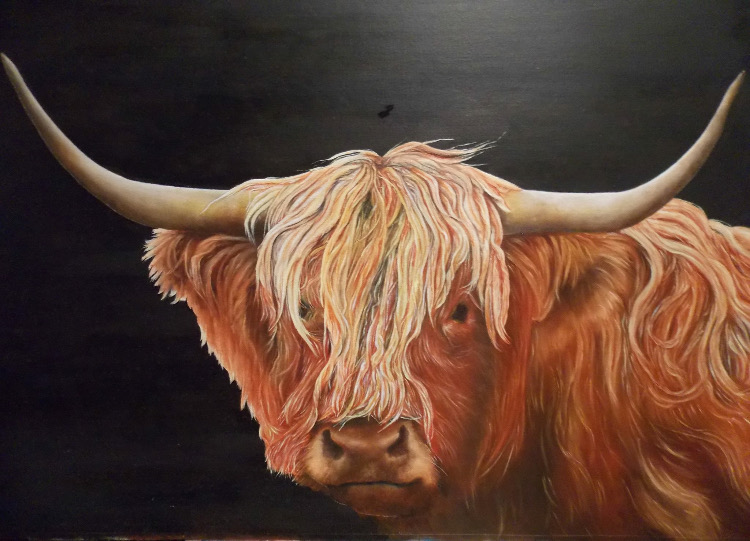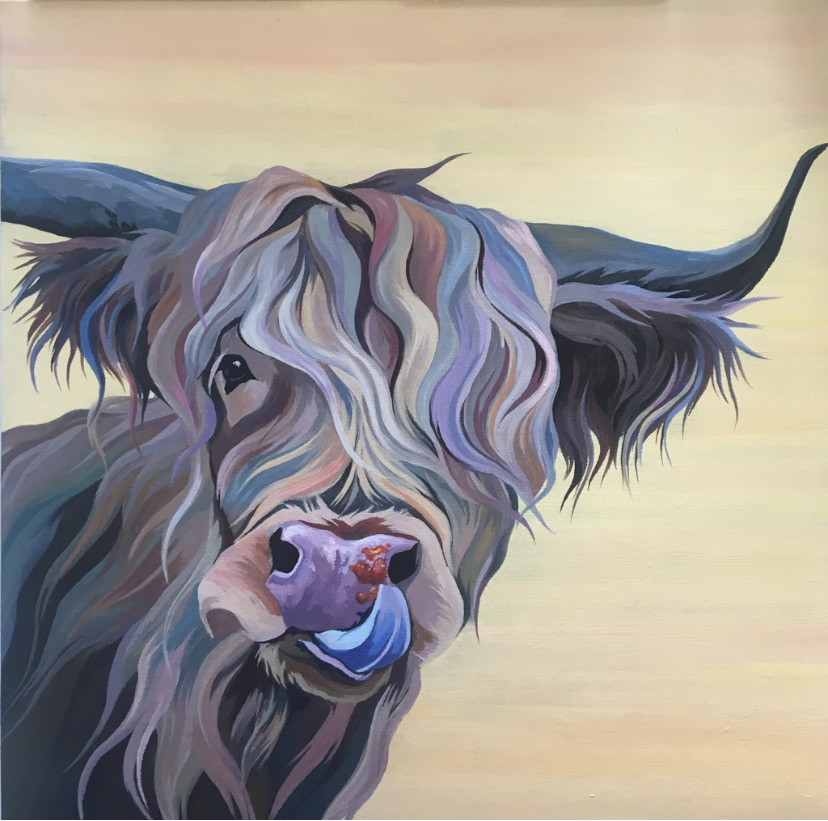 Gracie and I have a lot of work to do in the next few months. We will be adding new stores, testing new flavors and keeping up with all of our Jam Fans. We will keep you posted on all the new happenings and in the meantime enjoy a bit of Coo Moo Jam and kiss a Coo if you get the chance.
Moo Hoo!
Julie and Gracie