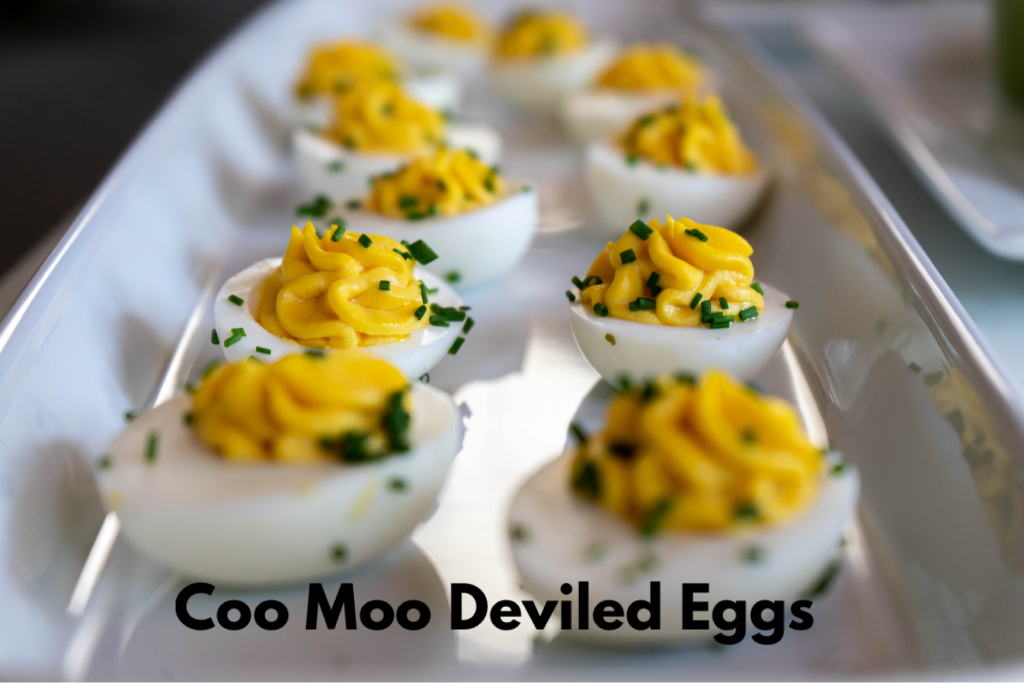 Ingredients
12 large hard boiled eggs peeled and cut in half
1/2cup mayonnaise or more depending on how creamy you like the filling
2 teaspoons pickle juice (I prefer dill)
2 teaspoons Dijon mustard
1/4 teaspoon Wooster Sauce
a few drops of hot sauce optional
salt and pepper to taste
Optional for topping: paprika and/or minced Chives
Instructions
Gently separate the egg whites from the yolks. Place the yolks in a bowl and place the whites on a large plate or serving tray.
Add the mayonnaise, sweet pickle juice, Dijon mustard, Wooster Sauce, hot sauce (if using) and salt and pepper to the bowl with the yolk mix. Using a fork mix until smooth. Add in the other ingredients and mix until smooth.
Transfer the egg yolk mixture to a piping bag fitted with a large star tip or spoon in mixture until the cavity of the egg white is filled.
4.To garnish the deviled eggs, add a sprinkle of paprika and top with minced chives. For something fun add a dollop of Coo Moo Apricot Habanero or Coo Moo Peachy Mango Madness on top.   Deviled eggs can be served at room temperature or chilled.
Notes
If you don't have a piping bag, try using a gallon-sized freezer bag with one corner cut off.
To make ahead, boil eggs 2 days in advance. You can also peel and separate whites from yolks and store until you're ready to make the filling.
Store deviled eggs in an airtight container for up to about 4 days.