COO MOO SPICY CHEX MIX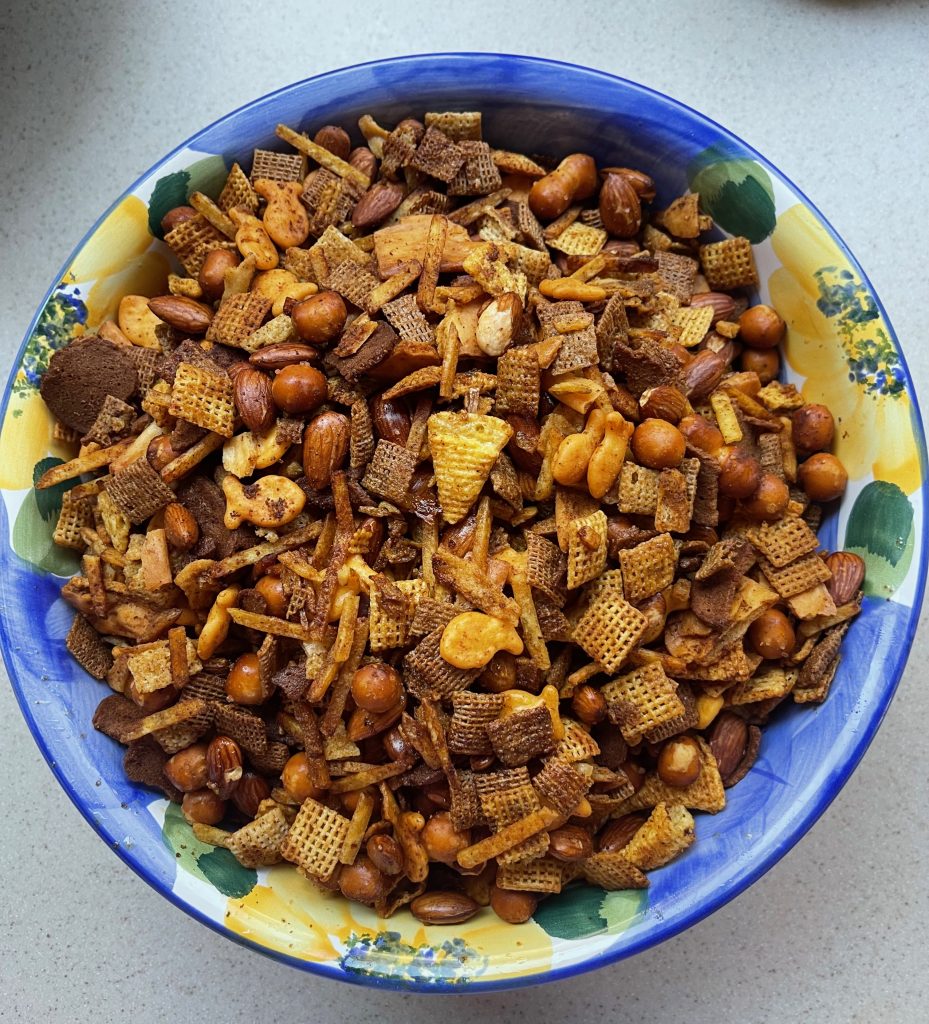 I love to snack! I especially love crunchy snacks and this recipe has crunch. Everyone loves the traditional Chex Mix and it is a staple for most gatherings. There are so many recipes you can use but of course we love spicy, so if you love spicy, then Coo Moo Spicy Chex Mix is for you. Coo Moo Spicy Chex Mix is a great addition to any party or just as snack in your pantry. With football season here and the Holiday's just around the corner, this is mix will be a great addition to your party menu! The one thing I love about Chex Mix is you can pretty much add or subtract any ingredient you want so have fun and make it your own. Made with our amazing Coo Moo Wooster Sauce this recipe is a winner!
ENJOY!
COO MOO SPICY CHEX MIX
2 Cups of Corn Chex
2 Cups of Rice Chex
2 Cups of Wheat Chex
2 Cups Almonds
1 ½ Cup of Bugles
2 Cups of Potato Stix's
1 ½ Cup of Rye Chips
1 ½ Cup of Cheddar Goldfish Crackers
1 ½ Cup of Pita Chips (optional)
1 ½ Cup of Pretzel Sticks or Balls 
1 to 1 ½ Cups unsalted butter cut into tablespoon pieces 
4 tablespoons of Coo Moo Wooster Sauce
1 tablespoon of Creole Seasoning (I used Tony Chachere's Original Creole Seasoning)
2 teaspoons of seasoned salt (Garlic, Onion etc…your choice)
1 ½ teaspoons of garlic powder
1 ½ Tablespoons of Hot Sauce (optional for extra spicy mix)
Instructions:
Preheat oven to 275 degrees or you can use your Air Fryer at 390 degrees.
In a large bowl add Corn, Rice, Wheat Chex's, Bugles, Rye Chips, Goldfish Crackers, Almonds, Potato Stixs, Pita Chips and Pretzels. Mix together.
Add butter, Wooster Sauce, Creole Seasoning, seasoned salt, garlic powder and Hot Sauce to a microwave safe bowl and heat at 30 second intervals, until melted. You can also heat in a small saucepan on low heat.
Drizzle the melted butter evenly across the mix and toss until mix is covered evenly.
Bake for 30 minutes if using your oven. If you are using an Air Fryer set it for 8 minutes.
Toss the mixture halfway through baking by using a spatula or shaking the pan.
Allow to cool and serve.  Store in an airtight container for up to four weeks. Serves 12.
Please Note: This recipe can be changed to whatever ingredients you might enjoy! Have fun!
WARNING: This Mix is addictive!